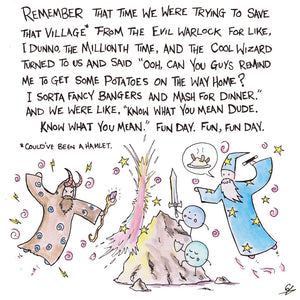 135mm x 135mm square greeting card from Broadway, by Connor H G, our resident art monkey.
Remember that time we were trying to save that Village* from the Evil Warlock for like, I dunno, the millionth time, and the cool Wizard turned to us and said "Ooh, can you guys remind me to get some potatoes on the way home? I sorta fancy Bangers and Mash for dinner." and we were like, "Know what you mean dude. Know what you mean." Fun day. Fun, fun day.
*Could've been a Hamlet. 
Blank inside, for your own secret, extra special, awesome message (if you're actually giving it to someone else, otherwise, use the space wisely...)
Supplied with white envelope. 
Image © Connor H G 2018 Do not reproduce, copy or edit without the artists permission.