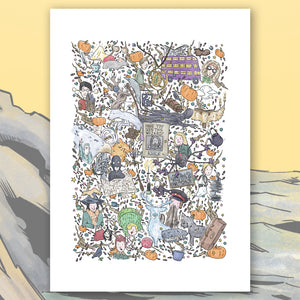 With different items, people and things from the books and film!
Can you name them all?
A3, glossy 180gsm print.
Central image size is approximately A4.
Shipped wrapped and flat in a clear pouch and board, via Royal Mail 
Illustration by Connor H G.
Fan Art inspired by the world of Harry Potter and the Prisoner of Azkaban by J.K. Rowling. No copyright infringement intended.